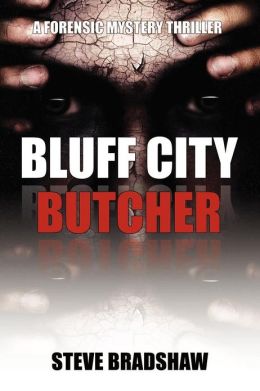 As many of you know, I am originally from Memphis, TN, and last fall when attending the Killer Nashville Writer's Conference, I had the pleasure of meeting Steve, author of the incredible forensic mystery, BLUFF CITY BUTCHER. We had a great time talking thrillers, writing, and became great friends, and of course share the same hometown. And today, he's generous enough to do an interview on my virtual front porch. And after the interview, we have a surprise, since many of you wonderful blog readers are writers.
It doesn't matter in which genre you write (or read), there is always going to be a scandal, crime, or dastardly deed somewhere in the plot. But if you're a thriller/suspense writer like moi, you know the importance of being familiar with basic forensic investigation techniques. So after reading a little about Steve, we're going have a question and answer session with Steve! From all questions posed (place your question before any comment you make please), Steve will pick three to answer.
But there's MORE!
He's going to pick one question from the 3 to win a signed first edition of BLUFF CITY BUTCHER!
So how will he choose a winning question? Being an analytical/scientific guy, Steve came up with some fantastic criteria, and they are as follows: originality, intrigue, and relevance. So keep that in mind when posing your probing questions. (Only one question per person.)
To enter, ask your question from now until 2:00 p.m. on SATURDAY April 13 ( eastern standard time). I will lock the thread for commenting after that time. I'll post the 3 questions and Steve's answers plus name the winner of the contest on Saturday. This is going to be so much fun!
JS: But before we get carried away, let me introduce you to Steve. And I have to start the interview by congratulating him on being selected a 2013 Darrell Award for Best Mid-South Science Fiction/Mystery/Thriller Novel.
Steve, you have such an interesting background. Tell us about some of the positions you've held in the past, and what experiences in your opinion, laid the foundation for your future as a writer.
SB:I have always been a creative person. I wrote my first true story for the Readers Digest. I was twelve when I decided to take a wooden crate into a half frozen pond and play ice breaker. Next thing I knew, I sunk and came up hitting the underside of the thick ice. My out-of-body experience was quite moving. Although Readers Digest said thanks but no thanks, I learned how to put my deepest thoughts on a piece of paper early. From there I wrote poems and a bunch of short stories for fun, and then channeled my creative juices into sketching and eventually oil painting. I paid for some of my college doing commission paintings—doctor's farms and favorite landscapes. So I always had an outlet for my creative spirit, even while pursuing a pre-med degree at the University of Texas.
I remember I never thought I could earn a living writing or painting back then. I thought I needed to be a doctor. That was when I met the world renowned forensic pathologist, Dr. Charles S. Petty who was setting up the Institute of Forensic Science in Dallas. He asked me to join him for a few years and then I would hop into Southwestern Medical School. I became the youngest Forensic Investigator in Texas History. I investigated over 3,000 unexplained cases and was a critical part of the team that solved 98% of them; 300 homicides, 600 suicides, 1,200 accidental deaths and the rest traumatic natural deaths that needed to be carefully examined.
After seeing so much death I decided not to go into medicine. I think that was a pivotal decision for me. But my interest in medicine and technology and business pointed me in a clear direction. All the time, I was writing short stories on planes only to throw them away later. It was my way to relax.
I guess my success in business was also important to my eventual writing full time. As an executive with leading U.S. medical companies and as a biotechnology entrepreneur starting my own companies, I learned how to invent, the process of creation. I raised $25 million and started a company in Memphis that was inventing early stage minimal invasive implants so people one day could avoid total joint replacement.
All my life was important to my writing career, because I now write fringe-science mystery thrillers that draw upon my very interment knowledge in those areas as a person who controlled horrific death scenes and demanding business boards searching for what no one else can find.
J: I'll bet having been a forensic investigator on so many cases gave you incredible insight into the criminal mind. Did you solve any big cases?
SB: I helped solve over 3,000 unexplained traumatic deaths in Texas. I was the Forensic Investigator that controlled the death scene, investigated the case thoroughly and stood next to the medical examiner at the autopsy the next day responsible to tell him what to look for. I was his eyes and ears at the death scene.
By oath I cannot discuss individual cases I handled. I can talk in general terms, in ways that do not violate the privacy of the deceased or their families.
However, the question is an interesting one because it allows me to emphasize training and practices followed. By definition the forensic investigator is one of the first responders to a death scene. Every case is approached as a homicide until the evidence says differently. 3,000+ times I arrived at a death scene that to the passing public could appear to be (let's say) an automobile accident. I know many times homicide and suicide are committed with a vehicle. I was trained to differentiate such things. When someone is lying dead and it is not a pretty sight to see, the trained forensic investigator must be steady and methodical and handle everything perfectly. All my cases were big ones. I represented the victim and I was trained to listen to their story.
JS: The setting for BLUFF CITY BUTCHER is in my hometown of Memphis. Can you share with our readers why you chose Memphis as the backdrop for this tale?
SB: I suppose there are a few reasons why Memphis is the stage for the Bell Trilogy. The first reason is I have lived in Memphis since 1982 and I know it well. All good writers will tell you, write about what you know about. If I put my trilogy in Egypt, I would spend half my time on Google Earth and studying the country, the people, and the culture and so on. The second reason I chose Memphis as a stage for the Bell Trilogy is because it is a rich and diverse part of the country with fascinating people, history, music, food and it is a national hub for the transportation industry and medical industry. The MidSouth and the majestic Mississippi River provides numerous settings for a good mystery.
JS: I couldn't agree more with you, and that's why I chose to begin my thriller in Memphis as well. So tell us, who are your favorite authors? Have any of them influenced your writing style?
SB: My favorite authors are Dan Brown (The DaVinci Code), Michael Crichton (Jurassic Park), Ken Follett (Eye of the Needle), Dean Koontz (Watchers, Demon Seed), and John Grisham (Time To Kill).
Dan Brown and Michael Crichton and John Grisham have had the greatest influence on me. I don't think they have affected my style as much as they have portrayed my interests...the things I want to write about. For example, Dan Brown is heavy into symbols and lightning-paced mystery thrillers. My new book, THE SKIES ROARED, is book two of the Bell Trilogy and delves deeper into the secret society and symbolism that is the underpinning for the first book BLUFF CITY BUTCHER, but is not revealed.
Michael Crichton weaves fringe science into a run-away theme park. I am a student of biogenic solutions and life extension technology. It is another under pinning in the Bell Trilogy.
Koontz is a master of thriller writing. He keeps you turning the pages and wondering what is around the next corner. That is how I tell stories. My debut novel is usually read in two or three days because people must go to work and they cannot put it down. That is when I smile.
And lastly, John Grisham...he is an inspiration. He writes good stories but doesn't claim to be a great writer of prose. And his story, A TIME TO KILL, was important. It had a message. I want to be certain that when I write, at the end of a good story there is a message, something to take home from the time invested in my book.
JS: Will there be a sequel to the book?
SB: Yes. BLUFF CITY BUTCHER, released August 2012, is the first book in the Bell Trilogy. THE SKIES ROARED is going to release this summer, and is book two. And in the winter of 2013/14 the last book in the trilogy will release.
After the Bell Trilogy, I have ideas for five more books. I will release two books a year nationally. I am most pleased my debut novel, BLUFF CITY BUTCHER was a 2013 Darrell Award winner...best science fiction mystery thriller in the MidSouth...it tells me the people who read everything like the path I'm on. For a new writer, that feedback is great.
JS: Is there any advice you'd like to give to new writers on how to get your book "out there"? How did you go about getting your manuscript published?
SB: I am too new to give advice. I can only tell you about me...right or wrong. I have a simple formula I have followed all my life...I applied to writing. It has allowed me to achieve great success in a very competitive world. If something I say helps, great.
Answer this question honestly to yourself, "Do I believe I am great at this?" If the answer is yes, it will carry you through all the naysayers and rejections and lonely nights and empty pages. If the answer is not an emphatic yes, maybe you should go find what is an emphatic yes...you deserve success.
2. Assuming you think you're a great writer yet to be discovered, write...write...write...write...write. I wrote three books to get my first book. I wrote two books to get my second book. This time I seem to be writing one book. And I was honest to myself when the things I wrote were not good enough...they got tossed. I look at as exercising my writing muscle. I want to keep masterpieces only.
3. Accept the fact you will struggle to get what is in your head onto a piece of paper. It does get easier. But it takes a lot of writing to get there. When you are there, it is wonderful. I am there sometimes and other times I am completely lost searching for it again.
4.
Do not listen to anyone in the business unless it makes good sense to you
. If they are successful, they most often don't have time for you. If they are marginal, they don't want you passing them up. If their losers, they drag you down. I hate unsuccessful people to tell me they're just like me. They are not at all like me. If I am unsuccessful at something I am moving on to what I can blow away. I think it is a miracle to find a successful writer that will open a door for you. If you hang around long enough that might happen. But I think it's like everything else...YOU MAKE YOUR OWN LUCK.
5.Understand why you are writing. If it is for fun, great...have fun. If it is for money, takes time I think. But for a lot of us it is because we must write...no choice. I got serious about it and will never stop. I have prepared my whole life for this.
6.It is very hard to sign with the big six publishers. I seriously believe Mark Twain would be rejected or if they signed him, they would have dumped him after a year.
No one knows what is GREAT anymore
because there is too much self-interest, not enough time and today
it's all about marketing
. If some big film company put my first book on the screen, I would be an overnight success. What does that really tell you? You may be GREAT, so write and hook-up with a mid-size or small publisher that believes in you and provides all the quality services you need to get your books properly published, edited and distributed.
PR is the job of every author today.
My theory is if I write enough great novels, they will be found sooner or later just like Stephen King in the early days, John Grisham selling books out of his trunk, and THE HELP being rejected by 100 agents. It goes on and on.
In closing, I will say I believe we all must do what we love and somehow find a way to finance your existence until you can do it. Great writers are criticized just as much as poor writers. Take 50 SHADE OF GREY, I was told by several agents and publishers and would-be authors it was poorly-written. I say it's well-written if the author is making $1 million a week! So who knows?
JS: True words. Thank you so much for your time Steve, and can't wait to see the questions my readers will ask.
So fire away at the forensics dude, and ask him a question! Remember, from all questions posed, Steve will chose 3 to answer and from the 3 he'll choose a winning question. I will announce the winner of the signed first-edition of BLUFF CITY BUTCHER on Sunday.